Jason Soper & Kevin Schuyleman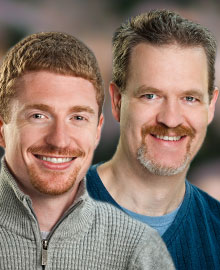 Make Your Mark as a Local Business Owner
They came to Highline with different career goals and ultimately teamed up to open their own accounting firm. Jason Soper came to Highline on a soccer scholarship, unsure of what field he wanted to pursue. He completed his associate degree with an emphasis in engineering in 2000. "A career path isn't always set from the beginning," says Jason. After some self-reflection and guidance from Highline's knowledgeable faculty he was able to discern his ideal career path. In Fall 2000, he began classes to obtain his second associate degree, this time in business and accounting.
Kevin Schuyleman came to Highline with the certainty that he wanted to work in the accounting industry, and knew that Highline's program could help him reach his goals. Jason and Kevin came to Highline with different outlooks on their future, but Highline was able to help them shape their careers and develop the skills they needed to succeed in the business world. "Professor Pitts truly helped us learn the ways of accounting in and out of the classroom," said Jason and Kevin. "She not only worked hard to ensure our success academically, but she helped us find internships and make contacts that helped us grow professionally as well."
Both Jason and Kevin continued on to pursue their Bachelor of Science in Accounting at the Central Washington University Des Moines Campus. In 2007, they took over ownership of the former Blair and Company Accounting Firm and changed the name to K & J Accounting.
Since the transition, K & J Accounting has grown to include two locations in Des Moines and Burien with 10 employees and plans to continue expanding. Recognizing the strength of Highline's program and the value of community partnerships, K & J Accounting hired five additional HC graduates in their offices. Highline helped Jason and Kevin build a better future for themselves and the local community.