Jemimah Kamau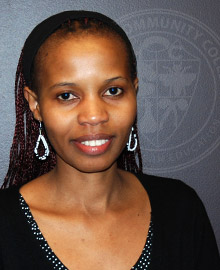 Make Your Mark as a Law Student
Jemimah Kamau already knew at age seven what she wanted to be when she grew up. Raised in Kenya, she witnessed many social injustices that sparked her passion to become an attorney and give a voice to silenced communities. With her family financially struggling, Jemimah picked tea plants and tended crops to keep her dream alive and fund her education.
In fall 2011, Jemimah took a leap of faith and moved to Washington State with her sister and enrolled in pre-law classes at Highline College. Although her family could not financially support her, she knew this is where she needed to be to achieve her dreams. "I must rely on scholarships to fund my education as an international student, which is a huge challenge," she admits. Jemimah was awarded the Ruth Reilly merit-based scholarship to ensure that the costs of education didn't hold her back.
At Highline, she maintained a 3.88 GPA and was chosen to represent Highline on the 2013 All-Washington Academic Team. "I thank the Highline Foundation for the opportunities that financial awards have provided me, and I also thank the donors for supporting dreams and goals of needy students at Highline."
Jemimah received a full-ride scholarship to Mt. Holyoke in Massachusetts where she is currently majoring in Pre-Law.