Lila Jones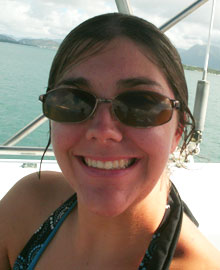 Make Your Mark by Following Your Dreams
Marine biology was Lila Jones' passion. It was that passion that brought her to Highline College to obtain her associate degree in biology. "My time at the Marine Science and Technology (MaST) Center was amazingly wonderful. Not only was I able to share my passion with others but it gave me the opportunity to truly explore my field," said Jones. "I learned so much about Puget Sound and fully realized that my lifelong dream of being a marine biologist was well within reach." She left Highline in 2010 to earn her bachelor's degree in marine biology from Hawaii Pacific University.
After completing her junior year at HPU, Jones was accepted to the highly competitive Semester at SEA program of the Woods Hole Oceanographic Institute (WHOI). While on that adventure she sailed to Key West, Jamaica and Cuba and conducted active research projects.
When asked about her experiences at Highline and the MaST Center she says, "I will always remember my time at the MaST and the unique hands-on experience I gained. I have to give a big thank you to the teachers and staff of the MaST. Without their encouragement and support, I would not be as well prepared for the next chapter in my education as I am."