Patrick Ledray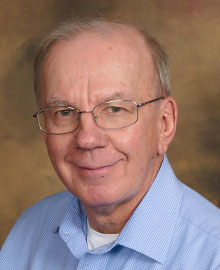 Make Your Mark as an Author
Patrick Ledray, an attorney, Honorary Consul of Romania and most recently an award-winning author, started his education at Highline in 1964. "I remember one professor, Dr. Johnson, who had just written the textbook that we used. That class was one of the best I ever attended either as an undergraduate, graduate or law student," said Patrick.
Patrick went on to continue his education, receiving his law degree from Hamline University School of Law in St. Paul, Minnesota in 1977. He worked at a Minneapolis law firm for ten years and then began a private practice. In 2000 he was named the Honorary Consul of Romania for Minnesota. His travels and ties to Romania served as the inspiration for his children's book, The Dragon in the Christmas Tree.
"I think the idea for the story began forming in my head around 2000 when I was in Romania to present the President there with pictures that children in America had painted for him. After the official functions were over, three of us on the trip spent a number of days driving to castles and sight-seeing in towns, villages and the Carpathian Mountains, where dragons are rumored to have lived, and continue to survive," he said.
The story of Sparky the dragon began with a small idea and evolved as it was retold, year after year, to Patrick's family. The Dragon in the Christmas Tree was published in 2012 and received a silver medal from the Moonbeam Children's Book Awards. He plans to continue his writing and is currently working on another story involving Sparky. Highline gave Patrick the foundation to pursue his many passions. Let Highline help you make your mark.