Ezra Teshome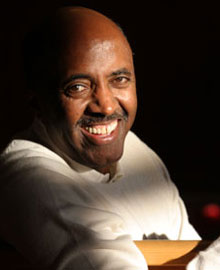 Teshome emigrated from Ethiopia in 1971 and enrolled at Highline shortly after coming to the United States. In 1973 he graduated from Highline and went on to Seattle University, where he earned his bachelor's degree in political science and pre-law. Through the service organization Rotary International, Teshome, 54, has spent nearly a decade leading volunteer teams to Ethiopia to help immunize children against polio.
In October of 2005, Teshome and his 35-member team were part of the national immunization campaign that reached 16 million children.
His dedication to the polio eradication effort led "Time" magazine to honor him last November as one of 10 global health heroes at the Time Global Health Summit, which pulls together public health experts and policy setters to address the world' critical health issues. Other humanitarian projects include arranging delivery of ambulances to his home country, providing low-cost housing for the poor and establishing micro-credit programs to help families become self-sufficient. In 2004–05, he was one of the leaders of a comprehensive plan to bring safe water to the most critical areas of Ethiopia.
"As a student, Ezra was concerned about the human condition, and how he could help to improve it," says Davidson Dodd, who has been teaching at Highline for 36 years and had Teshome in one of his political science courses.
"He wasn't grandiose about his commitment. He was simply appreciative of his good fortune and hoped that others could have the opportunities he had been blessed with." "What is so impressive about Ezra is how positive he has stayed, and how active he continues to be. He is fueled by energy, compassion, and I believe a strong religious faith."