Naomi Afereti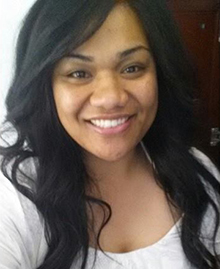 Make Your Mark in the Computer Science Field
Naomi Fiafuatai Afereti is passing forward the skills she learned at Highline to current students. Now a program assistant with Highline's Computer Science/Computer Information Systems department, just a few short years ago, Naomi was an active student on campus. She served as an orientation leader, held a work-study position in Records & Registration, and participated in the Mathematics, Engineering, Science Achievement (MESA) Program.
"I was able to meet other MESA students from different two-year colleges in Washington, network with staff and faculty, and enjoy being a part of something big," Naomi said of the MESA Program, which seeks to serve underrepresented students in science, technology, engineering, and math fields with academic support and professional development.
Following her graduation from Highline in 2013, Naomi was one of the few women accepted to the IT program at University of Washington Tacoma (UWT). She now not only uses her knowledge and talents to assist current Highline students, but she also used her skills to create a new website for her church.
"I never thought I'd ever be able to create something as cool as a website. Being able to do so and present it to the board members of my church was an amazing feeling of accomplishment knowing that I put my skills to use, and I'm able to share that with close friends and family," she said.
Naomi will graduate from the UWT in spring 2016 and plans to pursue a career in database, web or security administration.