Mike Moran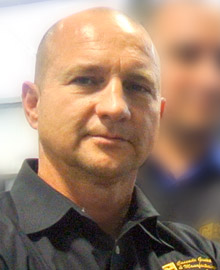 Make your mark in the aerospace industry.
Mike Moran came to Highline to pursue his degree in Manufacturing Engineering, but left with a lifelong friend and mentor and the job connections that took his career far beyond what he could have ever imagined.
Mike began attending classes at Highline to build his skill set for his employer. "My education was extremely relevant to my job at the time, and upon graduation they promoted me to a full Manufacturing Engineer. This meant more money and more opportunity," says Mike who is now General Manager of Cascade Gasket and Manufacturing.
In 1992, Mike took his first class with Professor Bob Maplestone at Highline. Some of Mike's fondest memories and most vital professional skills came from his time in the classroom with Bob. "This man actually cared that people understood what he was teaching. He had passion and drive together with an amazing ability to convey complex subject matter in basic language," Mike gushes.
The knowledge he gained from Bob didn't end in the classroom. In 1995, Mike's big break came when he was asked to give a presentation to the board of directors at his corporate office. "Not only did Bob take the time to review my PowerPoint presentation, and strongly suggest some significant changes, but he had me rehearse in front of him before I left for New York. That presentation landed me my biggest promotion and sent me on my way up the corporate ladder."
Mike credits his time at Highline with his ability to lead Cascade Gaskets from a humble company of 35 employees to the 22nd largest Aerospace Company in the Puget Sound with more than 160 employees. Cascade Gasket has been recognized for its success and innovation in the Puget Sound Business Journal, Washington Business magazine and Seattle Business magazine, and has received recognition with the Boeing Performance Excellence Award, Spirit Aerosystems Outstanding Supplier Performance Award, Washington's Family Business Award, Society of Manufacturing Engineers Award of Distinguished Contribution, 2014 City of Kent Best Practices award, among many others.
Mike was also named the 2009 Aerospace Executive of the Year by the Pacific Northwest Aerospace Alliance.
As Bob did with him, Mike believes it's important to pass along his knowledge and experience to the next generation of manufacturing engineers by teaching courses at industry training centers, high schools and local colleges, including Highline. "I continually emulate Bob's teaching styles," says Mike. "I struggle to convey in words the immense benefits that my experiences and education at Highline have given me personally and professionally."