T. M. Sell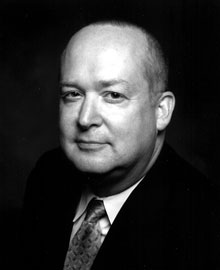 Dr. T. M. Sell, a Highline College instructor and 1978 graduate, has been named the recipient of the college's 2002 Distinguished Alumni Award. Started in 1990, the award honors former Highline students who are making outstanding contributions in their chosen fields of endeavor. Former Seattle Mayor Norm Rice, who attended Highline in 1968–69, was the first recipient of the award in 1990.
Sell is a nationally recognized author and award-winning journalist, who spent nearly 20 years on the staff of various Northwest newspapers. He began teaching at Highline as a part-time political science/journalism instructor in 1986 and moved to full time in 1996. He was granted tenure in 2001.
Since 1996, Sell has served as the advisor of the Thunderword, Highline's student-run campus newspaper, which has won numerous awards under his tutelage. He helped guide the paper to weekly instead of monthly production and tripled enrollment in the program. Graduates are now beginning to work at newspapers and public relations agencies around the Northwest.
While a student at Highline, he himself was a Thunderword staffer and editor as well as national president of Phi Theta Kappa, the international honor society for two-year colleges, in 1977–78.
Recognized as an expert on The Boeing Company, he has appeared as an analyst on local and national television networks to discuss the company as the result of his 2001 book, "Wings of Power: Boeing and the Politics of Growth in the Northwest." He is at work on a book about deregulation and electric power. He is a playwright and founder of Breeders Theater, a successful local professional theater company. He frequently donates his talent to help fund causes on Highline's campus.