Dr. Linda Petter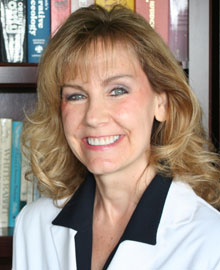 Dr. Linda Petter, a family practitioner in Tacoma and author of "Common Medical Sense," its 2009 Distinguished Alumni Award winner for her outstanding work in the health care field.
"I'm flattered and honored to win this award," said Petter, a 1983 Highline graduate. "If it wasn't for Highline, I don't believe that I would be where I'm at today. My career was defined at Highline."
She came to Highline in 1980 wanting to be a nurse, but changed her career path after receiving encouragement from various people, including one Highline professor. "I told him I wanted to be a doctor, and he told me I could be anything I wanted to be," Petter said.
Petter has spent her career striving to improve the quality of health care through patient education.
She uses her Website, books and public-speaking appearances to consistently promote her message. In addition, she has a regular feature at 7:45 a.m. Sundays on KOMO-AM 1000.
"Dr. Petter's personal and professional accomplishments since graduating from Highline College make her most worthy of receiving our Distinguished Alumni Award," said Highline Vice President for Student Services Toni Castro, who nominated Petter for the award. "Her determination, professional motivation and commitment to the medical profession and public health are most admirable."
Petter recently started her own Website, www.docforall.com, which provides direct access via e-mail, Webcam, telephone and instant messaging to a doctor at any time.
She started the Website because she believed that all people should have the right to know basic health care information. "Everyone should have contact with a doctor even if they do or do not have insurance," said Petter, the chief of the Department of Family Practice at St. Francis Hospital in Federal Way.
In addition, her self-help book, "Common Medical Sense," contains practical information about health-care problems, including sleep disorders, depression, weight loss, nutrition, high blood pressure, cholesterol, diabetes and aging. The book was published in 2005.
She wrote her second book, "Health Care on a Budget," because "I thought that the inside information that doctors know should be shared with patients," Petter said. She is currently seeking a publisher.
After graduating from Highline, Petter earned bachelor's degrees in molecular biology and English from the University of Washington.
She graduated in 1993 from the University of Osteopathic Medicine & Health Sciences in Des Moines, Iowa.
She completed her residency training at the Mayo Clinic in 1995 and University of Illinois' Carle Hospital in 1998.