Carl Hinkson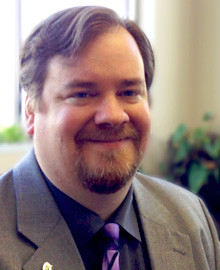 Carl Hinkson—respiratory therapist and manager of Haborview Medical Center's Respiratory Care department—is the 2013 Distinguished Alumni Award winner for his substantial contributions and success in the respiratory care profession.
Hinkson graduated from Highline's Respiratory Care program in 1996 before continuing on to earn his bachelor's degree at the University of Kansas and master's from Northeastern College.
He is currently the only Washington State respiratory care practitioner to hold a master's degree in Respiratory Care. In addition to managing the prestigious Respiratory Care unit at Harborview Medical Center, Hinkson is an author, national speaker and lecturer, and advocate for the respiratory care field.
He served as the Respiratory Care Society of Washington President in 2010, and has been awarded many honors for his work including being named the 2011 Adult Acute Care Practitioner of the Year by the American Association for Respiratory Care.
"My time at Highline College was very important to my development as a professional," said Hinkson. "The program director, Bob Hirnle, and clinical director, Bob Bonner, influenced me greatly. I credit much of my later successes to my time at Highline."