Chris Carrel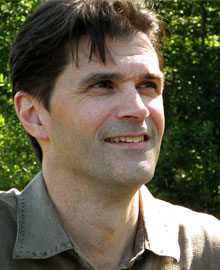 A graduate of Highline's Economics program, Carrel attended the college from 1982 to 1984. "I had some unique life circumstances when I came out of high school, and if I hadn't been able to attend Highline College, I likely would not have been able to enter college at that time. I think that underscores Highline's importance to the community. It fits a lot of educational needs and makes college education possible for so many people," said Carrel. He returned to Highline in 1986 to pursue his interests in psychology and human development.
Chris is executive director of the Friends of the Hylebos. Carrel's conservationism started at an early age. "During my time at the University of Washington I interned at the Washington Wilderness Coalition (WWC). After I graduated, the WWC hired me as executive director," said Carrel. In 1993, Carrel co-founded the Atmosphere Alliance, a nonprofit organization working to inform the public about the threat of global warming and strategies for addressing the problem. This group became the precursor of Olympia-based Climate Solutions. As a freelance journalist, Carrel put his passion to work in his writings. In 1997 he won first place in the Society of Professional Journalists' Western Washington Excellence in Journalism awards with his writing about Consumer and Environmental Affairs. That same year, he was awarded the third place prize for the Washington Press Association's Communicator of Excellence awards when he wrote about ecology and the environment.
In 1999, Carrel led the conversion of the Friends of the West Hylebos from a wetland steward to a watershed conservation organization. He has been the executive director of the Friends of the Hylebos since that time and has helped preserve more than 395 acres of wetlands, and has personally helped preserve more than 150 acres of Hylebos Creek habitat.