Larry Blackstock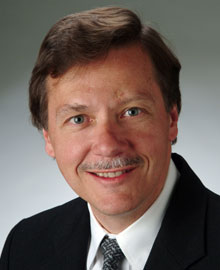 Larry Blackstock has spent more than 25 years in operations management in the television broadcast and cable industry. A 1974 graduate of Highline, Blackstock says, "Highline is where I first decided I wanted a career in the television industry. I earned my way to an associate's degree by working at the closed circuit TV station on campus. It was a great job that allowed me to attend wonderful classes that expanded my thinking.
Now the Director of Operations for Northwest Cable News in Seattle, Blackstock was part of the executive management team that built and launched the network in 1995. It is the Northwest's first and America's highest rated 24-hour regional news network as well as the first all-computer digital television station in the world.
Born in Evansville, Indiana, and raised in Seattle, Blackstock graduated from Rainier Beach High School and enrolled at Highline the following fall. "After struggling through various difficulties in high school, Highline was the place where I not only discovered I could achieve, but that I could become an achiever! It was a transforming point in my life," says Blackstock.
Besides his career achievements, he has been dedicated to his community through a wide range of activities. Since 1992 he has served as a district speaker for United Methodist Churches in the Puget Sound area where he conducts Sunday morning church services—and occasionally weddings and funerals—when full-time pastors are absent.
In 1992, he wrote the first after-school day care budget for Issaquah Public Schools. It is now a district wide after-school program that serves many families with quality day care. From 1982 to 1989, he was a musician and instructor for a nonprofit organization dedicated to teaching and performing Hawaiian and Polynesian music.
Blackstock earned his bachelor of science degree in business administration from City University and his master's degree from Seattle University's School of Theology and Ministry.