Ronald Beard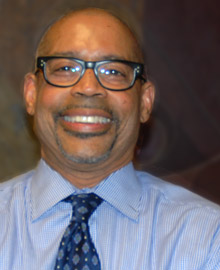 Ronald Beard was chosen as the 2014 Distinguished Alumnus for his outstanding achievements as a legal professional and service to our community. Beard had an active commercial litigation practice at Lane Powell Attorneys in Seattle.
Upon his departure from Highline College, Beard went on to obtain his undergraduate degree at the University of Washington in 1990, and continued at the University of Washington School of Law, receiving his Juris Doctor in 1993.
"I knew after spending time with Ron both in and outside of class I knew that he would be successful, not because of his sparkling personality and strong people skills, but because of his persistence," said Ed Morris, Beard's former Highline math instructor.
"Because of Ron and other students like him, I taught at the college for over 40 years continued to teach at HC. He is an ideal representation of the mission of Highline. We are here to give students the opportunity, the knowledge and the expectations they need to achieve their goals and dreams."
During his years in practice, Beard represented several municipalities, including the Port of Anacortes, the Port of Port Orchard and the City of Gold Bar as both plaintiffs and defendants in contract disputes and civil rights violations.
In addition to his law practice, he was a former United States Coast Guard licensed chief engineer and has a broad mechanical background. He was also named as a "Washington Super Lawyer" by "Super Lawyers" magazine and "Washington CEO" Mmagazine ranked him a "Top Lawyer" in Banking.
Beard passed away suddenly in November 2014 of advanced respiratory failure.